Túrajavaslataink angolul a külföldi partnerek számára
Our touring packages:
Package 1
For a family that wishes to spend 2-3 days in our region. The package offers activities for children while visiting interesting and famous places and fun for all family members.
Check the map and find more information there.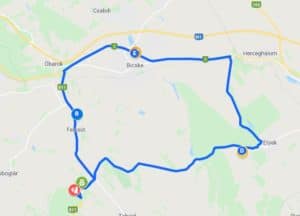 Day 1. Starting from Bicske, you drive to Etyek, where you can visit Hungary's most famous film studio, the Corda Studio. Kids enjoy looking behind the scenes. Leaving this little picturesque village, you travel to Alcsútdoboz. Visit the beautiful botanical garden. Have dinner at a local restaurant and go back to your hotel.
Day 2. Time for your kids. Drive to Alcsútdoboz and have fun at a fun park. There is a lovely patisserie in Bicske where you can taste delicious cakes and ice creams.
Day 3. Sports and remembrances. Visit a well-known football stadium in Felcsút. You find relics of Ferenc Puskás, the famous football player. Have a pizza at Korona restaurant for lunch.
Package 2
For a group of young people ( ex: a school class with 20 students) who wish to spend 1-2 hiking-days in our region. The package offers a hiking route and fun while visiting interesting and famous places. Check the map and find more information there.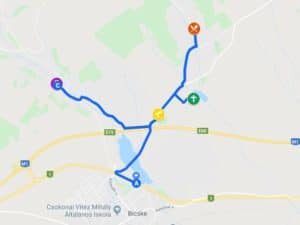 Let us introduce a hiking path that starts in Bicske. Take Szent László street and cross the national main road. You can find there a very safe underpass. Walk to the right and follow the cycling path. You walk about 3 km, and you reach the top of the closes hill where you find an ancient Observatory and a Mausoleum. You keep walking uphill and reach the Golgota, three crucifixes on the top of a hill. From there you can have a look at the village called Mány and at the fish lake. Walking downhill you reach the village where you can stop for some drinks or snacks. Crossing the village you find the cycling trail, follow it. You walk past a little stream and reach the village called Csabdi. Just follow the trail uphill. From the center of the village, you get to the ruins of an ancient church. (from the 13th century) Here you can have some free time activities. (You can play in the wood, or you find a place where you can make BBQ.)
In the village, there is a nice Italian restaurant. It is worth to visit it as well.
Walking back to Bicske follow the cycle path. You reach the town at a roundabout.
The hiking path is about 15 km.
Package 3
For a group of young adults who wish to spend 1-2 days in our region. The package offers a route and fun while enjoying the food and wine of our region. Check the map and find more information there.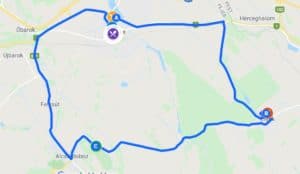 If you wish to discover the region's best food and wine, this path is a must. It offers exciting places to visit, as well. Traveling from Bicske to Etyek, you find a wine region. Taste the most delicate wines of the region. (Be careful, they are very tasty, do not drink too much.) In Etyek you find the most famous film factory in Hungary, the Studio Corda. It is worth a visit. Walk around this picaresque village. Heading to Felcsút, you find an excellent place to visit, the Pannonia Golf club. Take a break and enjoy golf. After this sports activity, you deserve some treat. Have an ice cream or a piece of cake with coffee at Randevú patisserie in Bicske. For dinner, you can go out in the town and enjoy a delicious dinner at Korona Restaurant.